'King of Ghazals' Talat Mahmood was born in a highly cultured but conservative family in Lucknow, India, on Feb. 24, 1924. He was one amongst six children. Talat showed his musical leanings from a very young age and would enjoy sitting through all-night music soiree's listening patiently to some of the biggest names in Indian classical music. Later, for a very short period of time Talat studied music at Marris Music College, before people began noticing his natural singing talent and offers to sing began to pour in.



Talat Mahmood began his music career at the young age of 16 when he began singing the ghazals of Ghalib, Dagh, Mir and Jigar on All India Radio, Lucknow. His voice had a quality distinct from all other singers. HMV was quick to notice this and offered Talat his first disc in 1941, "Sab din ek samaan nahin tha, ban jaoonga kya se kya main, iska to kuch dhyan nahin tha". Indeed how prophetic were these words. Little did Talat know that he was soon to rise to become the greatest name in ghazals on the Indian sub-continent !

In 1944 came the smash hit "Tasveer teri dil mera behela na sakegi". It took the country by storm. It's popularity was so phenomenal and unrivalled that even today it remains one of the biggest non-film hits! This disc brought Talat fame throughout India and soon he was beckoned by the Calcutta Film Industry, which was then the premiere hub of film production in the 40's. Apart from singing many hits, Talat also acted in the first 3 of his 13 films there - "RAJLAXMI", "TUM AUR MAIN" and "SAMAPTI".


But fate had even bigger things in store for Talat and in 1949 he came to the Hollywood of India - Mumbai. His name and fame had already preceded him and people in the Mumbai Film Industry were already aware of this handsome and talented young singer and soon he was offered the song "Ae dil mujhe aisi jagha le chal jahan koi na ho" composed by the then reigning music director Anil Biswas and picturised on the great Dilip Kumar. The combination was electrifying ! The record was an overnight success and set the trend for the filmi ghazal.





In Talat Mahmood, the music directors found the perfect voice for ghazals. His diction and intonation were word perfect. His expressive style and emotional nuances were unparalleled. The mellowness, sweetness and pathos in his voice set him apart from all the other singers. Here was a voice that was fresh ! The style absolutely new !! He was unanimously hailed as "The King Of Ghazals", a title he consolidated over the period of years to become the greatest name in ghazals !!! His film solo's and romantic duets numbered in hundreds as hit after hit followed. Talat soon grew into a living legend.



However, the handsome young 'King of Ghazals' did not go unnoticed by the film producers, who besieged him with offers to act in their films. Such was Talat's aura, that for his film 'Dil-e-Nadaan', producer-director A.R. Kardar, launched an 'All India Beauty Contest' to hunt for a beautiful girl who would play the heroine opposite the young and immensely talented superstar Talat Mahmood !!! Talat was to finally accept 13 films with top heroines like Nutan, Mala Sinha, Suraiya, Shyama, Nadira and others before he decided that acting was not his forte. And hence, Talat gave up acting to concentrate on singing.

Towards the late 60's the filmi ghazals and good romantic songs gave way to the electronic rhythms of the disco generation. Disliking the new trend towards loud meaningless music, Talat decided to cut down his film singing assignments but continued his non-film ghazal recordings.



As a singer, Talat has already secured a place in history. Over the years, the King of Ghazals has created a catalogue of songs for generations to come. His fan following straddles the globe. He strides like a colossus in the field of ghazals - a KING whose name is surpassed by none !!!




---
Talat Mahmood has been honoured
with the prestigious PADMABHUSHAN AWARD by Government of India.
---
A SUPERSTAR AMONG STARS !



Dilip Kumar and Talat Mahmood, two of the greatest and most respected names of the Indian film industry pose for

press photographers

ALL TIME GREATS !




TALAT, MUKESH, LATA, RAFI





Talat Mahmood & 'comedy king' Johnny Walker in

London during concert tour


Bimal Roy, Talat Mahmood,
Mohd. Rafi & S.D. Burman recording for film 'SUJATA'

India's nightingale Lata Mangeshkar chats with 'King of Ghazals' Talat Mahmood


Dilip Kumar, Talat, Mukesh backstage at a charity concert




Talat Mahmood, Nadira, Suraiya at the premiere of their hit film "WARIS'

Asha Bhosle warmly greets
Talat Mahmood



Talat Mahmood with Bengal's heartthrob Uttam Kumar


Magnum Opus "Mughal -e- Azam" producer K.Asif and
Talat Mahmood at a party


Talat Mahmood with Shammi Kapoor at a film premiere

O.P. Nayyar, Balraj Sahani,
Talat Mahmood during making of 'Sone Ki Chidiya'

Waheeda Rehman, Mala Sinha, up and coming star Chand Usmani, 'Jublee Star' Rajender Kumar and Talat Mahmood at Powai Lake picnic

Charismatic cricketing star
Nawab of Pataudi visits Lata, Madan Mohan and Talat during 'SUHAGAN' song recording


Suraiya, Motilal & Talat during the shooting of 'MAALIK'

Mehdi Hassan pays his respects to the majestic 'Shahenshah e Ghazal' Talat Mahmood

Guru of the Beatles ! Sitarist
Ravi Shankar with Ghazal King
Talat Mahmood


Talat with 'villain' Pran


Two legends come together!
Talat Mahmood rehearses a song for composer Naushad


T

alat Mahmood with his favorite music director Anil Biswas


M

ukesh, comedian Mehmood, tragedy queen Meena Kumari and Talat Mahmood

Shankar-Jaikishan recording with Lata and Talat
for ROOP KI RANI CHORON KA RAJA

Laxmikant-Pyarelal rehearse with Talat
for WOH DIN YAAD KARO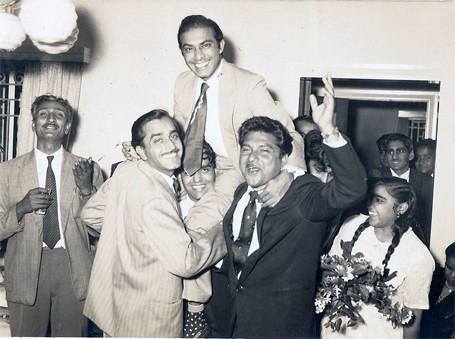 Three cheers for the KING!
______________________________________________________________________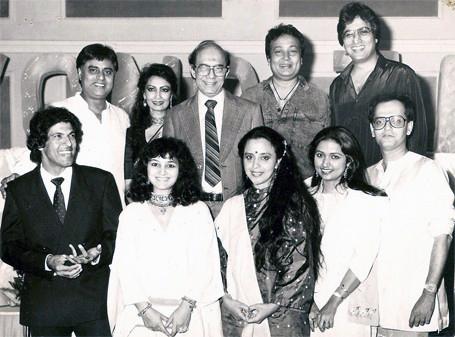 Shahenshah-e-Ghazal Talat Mahmood
with
Jagjit & Chitra Singh, Bhupinder, Talat Aziz
Pop singers Gary Lawyer, Alisha Chinai, Ila Arun, Mitali, Nandu Bhende

______________________________________________________________________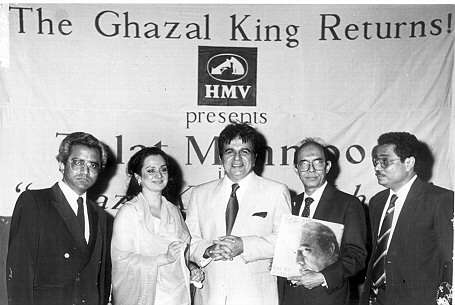 The release of Talat Mahmood's "GHAZAL KE SAAZ UTHAO" was a grand affair!
Old friend Dilip Kumar and his wife Saira Banu were on hand to release the ghazal album
at a 5 star hotel in Mumbai with the glitterati of the city gracing the occasion.
---
Sathya Saran, editor of FEMINA magazine, who hand-picked and groomed Aishwariya Rai, Sushmita Sen, Yukta Mookhy, Priyanka Chopra - all winners of the Miss Universe and Miss World Titles, wrote in FILMFARE magazine JULY 1998 :
"Talat Mahmood was the quintessential romantic. His gentle good looks, his chivalrous manners and his quiet reclusivity had all the elements of high romance!"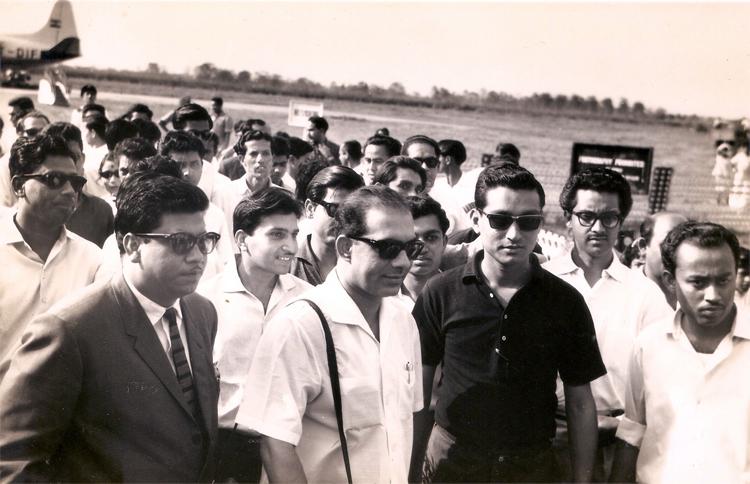 Mega star Talat Mahmood was mobbed by his fans where ever he went!
Here, on a concert tour, eager fans mob the Ghazal King at the airport itself. Talat never disappointed them
and always made time for his fans by signing autographs and taking photo's with them
---
In 1979, Talat performed at the world renowned Royal Albert Hall, London, selling out all tickets
2 weeks before the concert date! Talat was the second playback singer after Lata Mangeshkar to
be permitted to perform at this historical venue. Here, Talat waves to a capacity crowd of his
ardent and ever-loving fans after his hugely successful concert.

---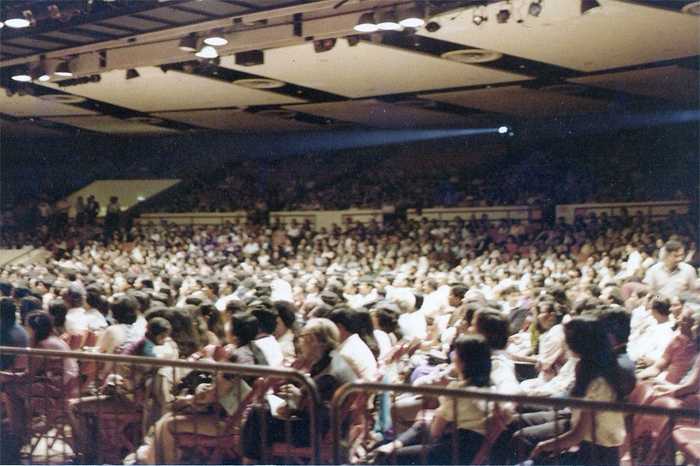 Fans pack Wembley Centre, London, to hear the King sing!
Every concert of Talat Mahmood anywhere in the world, was always packed to capacity
and not a single seat remained empty at show time. Such was the love of fans for THE KING!
---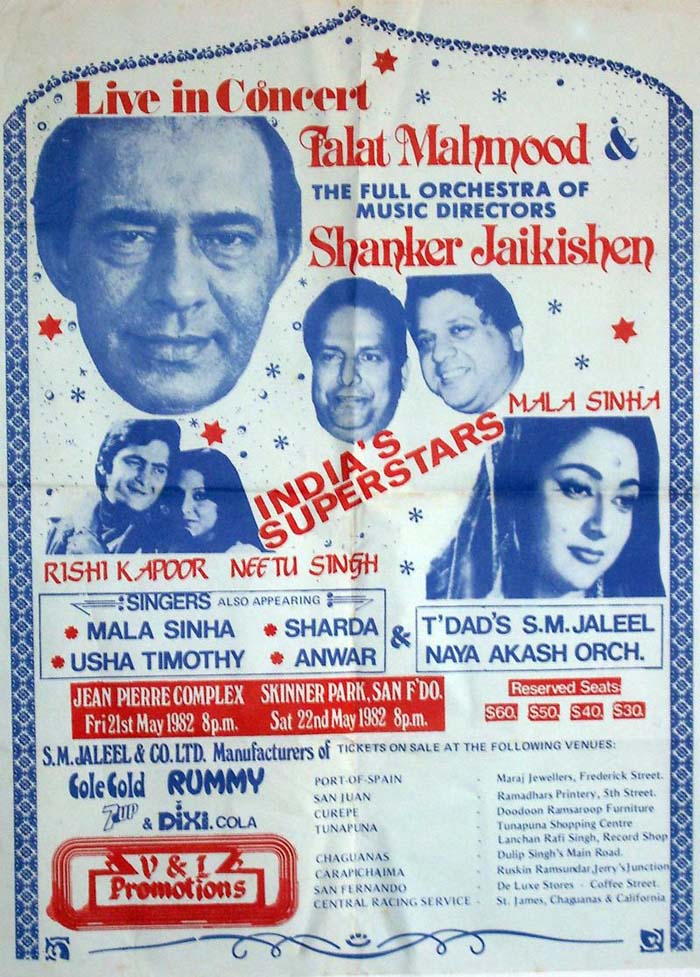 In the 1982 West Indies Tour by top most Music Directors Shankar-Jaikishan, inspite of the presence of such mega stars like Rishi Kapoor, Neetu Singh, Mala Sinha and others, it is the 'GHAZAL KING' TALAT MAHMOOD who is the most prominently featured in all the posters, as the organisers knew that it is only the magic of his golden voice that will draw
huge audiences and crowds into the arena!

---

After the stupendous success of songs in "Ek Gaon Ki Kahani", "Chhaya", "Usne Kaha Tha", "Prem Patra" and "Aawaz" the genius of Talat Mahmood and composer Salil Choudhury once again came together in 1982 to record for Chabi Bharati Film Productions bi-lingual film. TUP TAP BOONDEN BARSEN in Hindi and TUP TAP BRISHTI PODCHE in Bengali were recorded. Talat's son Khalid, who is a big fan of Salil Choudhury, was also present at this recording and has clicked all these photo's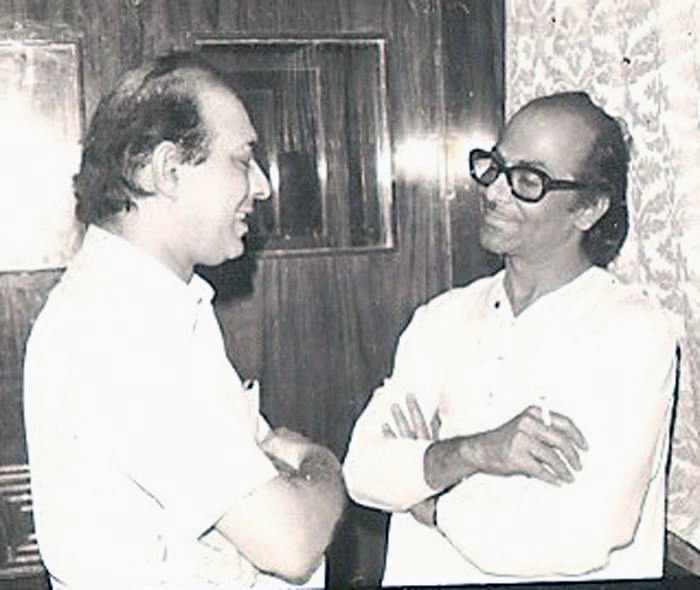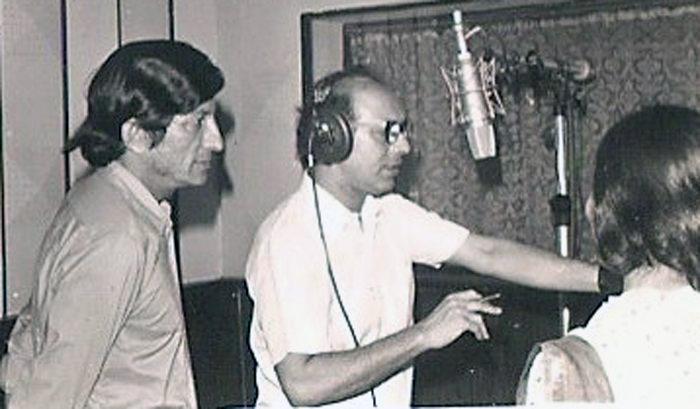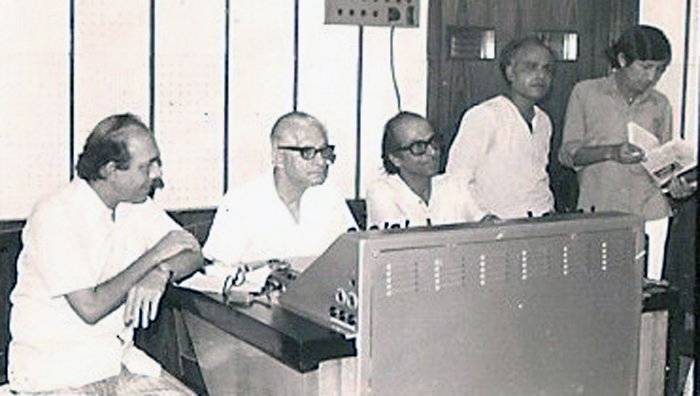 _________________________________________________________________________________________

_________________________________________________________________________________________

JETHRO TULL and TALAT MAHMOOD....... CULT FIGURES!
Well known and respected music critic Narender Kusnur writes in MID-DAY (13/5/02) about 'cult figures', like Elvis Presley, whose fan following borders on the fanatical and is never ending. Every new generation re-discovers these icons.

He draws up his own list of "Top 10 Western Musicians With Cult Following" - his list is headed by Jethro Tull and includes pop icons The Grateful Dead, Bob Dylan, Jim Reeves and others.

No.1 on his list of "Top 10 Indian Musicians With Cult Following" is none other than the 'King Of Ghazals' Talat Mahmood, who he says has a never ending club of ardent admirers!!! Others following
Talat Mahmood on this list are Geeta Dutt, Begum Akhtar, Mehdi Hassan, Madan Mohan and others.
_____________________________________________________________________________________________________________
'TALAT MAHMOOD SHOW' IN DELHI
Talat Mahmood sings in Delhi to a packed auditorium and listening to the Shahenshah is the
greatest name ever in Indian cinema Dilip Kumar with wife Saira Banu and Naseem Banu!
_____________________________________________________________________________________________________________

Talat with wife Nasreen and singer son Khalid